Recently invisiblyrose posted in her wedding blog
Another One Bites the Dust
(which is great, by the way) that she is looking for flower-free bouquet alternatives so she doesn't spend her wedding sneezing. I started to write a comment on her blog and then realised, wait a minute! I HAVE A WEDDING BLOG. So here you go!
I too have been thinking about my bouquet. At first I thought, that's just an extra thing to spend money on! We'll do without it. And then I read an excellent comment by another bride: IT GIVES YOU SOMETHING TO DO WITH YOUR HANDS. And I realised that not only would it be a great relief to have something to stop me fidgeting at the (non-existent) altar, I would in fact benefit in my daily life by having a bouquet to hold. When I'm waiting for the bus, for instance, or standing in line for sushi. I have never really worked out what I am supposed to do with my hands.
Anyway! I have looked around Etsy for some bouquet alternatives, and I've found some lovely ones. Check em out!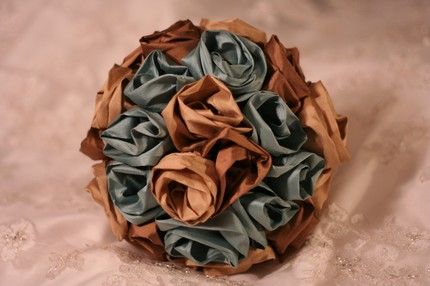 If you're going for a somewhat traditional look, you might like a silk bouquet, like this one from
Hannah Roses.
The Russian
's shop is a little bare right now, but she always has lovely things. I especially love the bouquets she makes from vintage and cotton fabrics, they're so bright and pretty.
Suili
crochets the most gorgeous semi-realistic flowers. Since she sells them by the stem, you could buy a few different kinds and make your own bouquet, or just get a mass of one kind.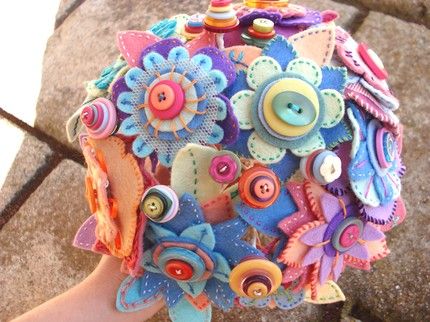 But for sheer cuteness, you can't beat button and felt bouquets like this one from
Violonjello
. This is probably the kind of bouquet I would lean towards; it's so fun and colourful!
Hand-crafted bouquets like this are not cheap, but they are lasting decorations for your home, so if you love them they're not a bad way to spend your wedding budget. To tell you the truth, though, I think I'm going to drop into a florist on the morning of my wedding. I've never been in a florist's without liking at least some of the flowers, and I figure I'll find a pretty bunch and make them into a bouquet myself. If I can't find anything I like, I'll just grab a bunch of daisies from my mum and dad's garden!